Here I am again, reflecting on another year in a bass angler's life, and looking forward to another one to come, with my usual mix of excitement and optimism (will I never learn!).
Exploring
One of the more enjoyable parts of the 'quiet' period over the late winter and spring is looking for new marks. We tend to gravitate towards our favoured, reliable spots, but at this time of resetting things, and with no 'pressure' to get out there and catch, a few non-productive afternoons are time well spent, and could turn up a potential silver mine. We did find a couple of 'humdingers' but have yet to give them serious rod time. Better not leave it too long as I don't know how much longer two old codgers will be able to get down the cliff!
Fishing abroad
After numerous trips to Ireland, my fishing abroad has now switched to the Channel Islands. I don't get the same opportunities to fish there as when my son was living on Guernsey, but love to go whenever I can. The island, and its near neighbours such as Herm, are so beautiful, and with the great company of the local anglers, who wouldn't want to visit as often as possible. I wrote about my most recent trip in my October blog.
A new canine companion
A year or so after losing our last golden retriever, a six-month old Archie joined me in October for his first fishing trip.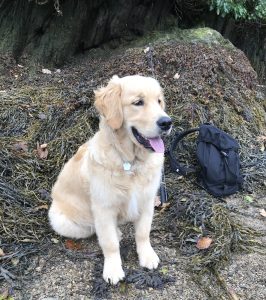 It has to be said that taking a (very) boisterous young dog fishing is not without its challenges! Hopefully he'll get there in the end, and so far he has (mostly) brought me luck, despite his antics.
Fishing patterns
Apart from a couple of fish in the mid-fifties on crab in May, from an old favourite mark revisited, my season didn't really get going until mid-July, with a 60cm fish. This was my first decent bass from an estuary, and was taken on a Dark Sleeper lure.
This pattern of fishing seems to have become established for me in recent years, and I find the period from mid-July until the end of September the most productive and enjoyable of the year.  It's possible to catch right up to early new year, but the latter part of the year can be  inconsistent, and a struggle against the weather at times.
A Christmas bass
One late season success was this 61cm bass, caught just before Christmas on squid.
Despite the disappointing results of late, when you get perfect conditions you have to make the effort, and the prospect of tapping into the December migration adds motivation.
An hour passed without event, but a short move along the beach produced a bite on the first cast with razor – a 40cm junior bass with attitude! The next cast was a re-run of the first, except that the bite didn't result in a fish.
I had brought along some (refrozen) squid for variety, so on it went. Five minutes later, the rod was thumping in my hands, as my would-be captive signalled its intention to regain freedom. No such luck – the top 1/0 Chinu hook had done its job well, despite the ensuing struggle, while the seemingly redundant 5/0 'Ultimate Bass' bottom hook dangled freely outside the fish's cheek. It's interesting how larger fish often seem to do this, almost as if they're going for the pointy end of the squid, and avoiding the beak at the head end, something which younger bass may not have learned to do yet. Catching this fish on squid reaffirmed for me what an excellent bait it is. Likewise mackerel, which also produced a 60cm bass for me in the summer.
"What a beautiful fish" I thought,  whilst at the same time being struck by how thin this fish was. A fish of this size would normally be fattening up for winter and full of eggs, but I'm not sure it would have even made the   5lb+ estimated by the BASS tape.
So why so slim? Had she come from an area devoid of her natural prey? I almost felt guilty about depriving her of a squid meal, but I think she'd probably swallowed most of it anyway. Why weren't her ovaries filling with eggs in readiness for an encounter with a young buck from further along the coast? I hope she finds a few nice juicy Cornish sardines (pilchards) as she makes her way along our shores, and avoids the monofilament walls of death set to prevent her reaching the spawning grounds.
Meeting a new challenge
Estuary fishing for bass was the last big challenge I wanted to meet. I know this is not everyone's cup of tea , some preferring the rugged coast and wave-pounded beaches to the quiet backwaters of tidal rivers.
Perhaps I've reached the time of life when I can enjoy this type of fishing, but I needed to see results before committing to it. Last year saw that happen.
I had always thought that estuaries were places which produced mainly school bass, and it is certainly true that they are very important nursery areas. Yet in recent years, reports of anglers catching big bass while fishing for other species, like bream, and while targeting bass with lures has changed that mindset.
My estuary catches weren't prolific, but were regular enough to give me the confidence to stick at it. The average size of fish I caught was the same on the coast and in estuaries at 43cm. Of the 9 x 60cm and above bass I caught last year, 3 came from the coast (2 on bait, 1 on lures), while 6 came from estuaries (all on lures), including my biggest fish of the year at 68cm.
Safe to say that I will be fishing estuaries more in the year ahead. It'll be interesting to see if this affects my pattern of catches over the year.
A seal encounter
I recently had an encounter which adds a new dimension to the concept of fishing with friends. This young chap/chapess joined me on the beach for a couple of hours while I was catching my final bass of 2021.
He made me jump when the 'rock' next to me moved as I turned to refresh my bait! He didn't seem too bothered by my presence, just shuffling up the beach whenever the waves got too close. I kept as far away from him as I could though, so as not to disturb him too much, and kept the use of my light to a minimum (always good practice when bass fishing).
I reported this sighting to Sue Sayer from the Cornwall Seal Group who was very appreciative of the information. Sue commented that the seal looked like a very skinny pup.
Joining Cornwall IFCA
November saw me joining the Cornwall Inshore Fisheries and Conservation Authority. I've long had an interest in fisheries management, and this four year voluntary appointment allows me to bring the sea angling perspective to meeting the undoubted challenges which Cornwall faces in this respect. My particular focus will be on the sustainable management of the bass fishery, but if there are any other issues relating to recreational sea angling you'd like me to raise, do let me know via email robin.bradley@btinternet.com.
Like all IFCAs, underpinning CIFCA's work is an important scientific programme. Marine biology is a passion of mine, and I hope to be able to help with this in some way.
Juvenile bass surveys
During 2021 I took on the organisation of the programme of juvenile bass surveys in Cornwall. Although familiar with the surveys, having been involved since 2013, running them is a different matter altogether. With a lot of help from Derek Goodwin, who has run the surveys since the 1990's, and our fantastic team of volunteers, I think I managed to negotiate the various administrative, practical and reporting aspects of the work, and look forward to starting this year's programme in May. I gave a brief outline of our findings in my November blog.
If you'd like to get involved with the surveys, or just find out a bit more about them, please feel free to get in touch via the 'Contact' tab on my website.
BASS Science
BASS has always been interested in the science aspects of bass, and has its own Science group drawing together information about the biology of bass from a variety of sources.
This is one of the unique aspects of what BASS offers its members, and I'm pleased to lead this group as we move into a period of increasing research on bass, hoping to understand more about its reproduction, movements and lifecycle.
Ghost story
Finally, I never could resist a ghost story, especially ones which involve fishing. I'm grateful to the Piscatorial Raconteurs and Friends for this tale from Jeremy Croxall 'Thatchers Beat' which featured in their Christmas edition. Enjoy………..
That's all for this month folks, thanks for reading.